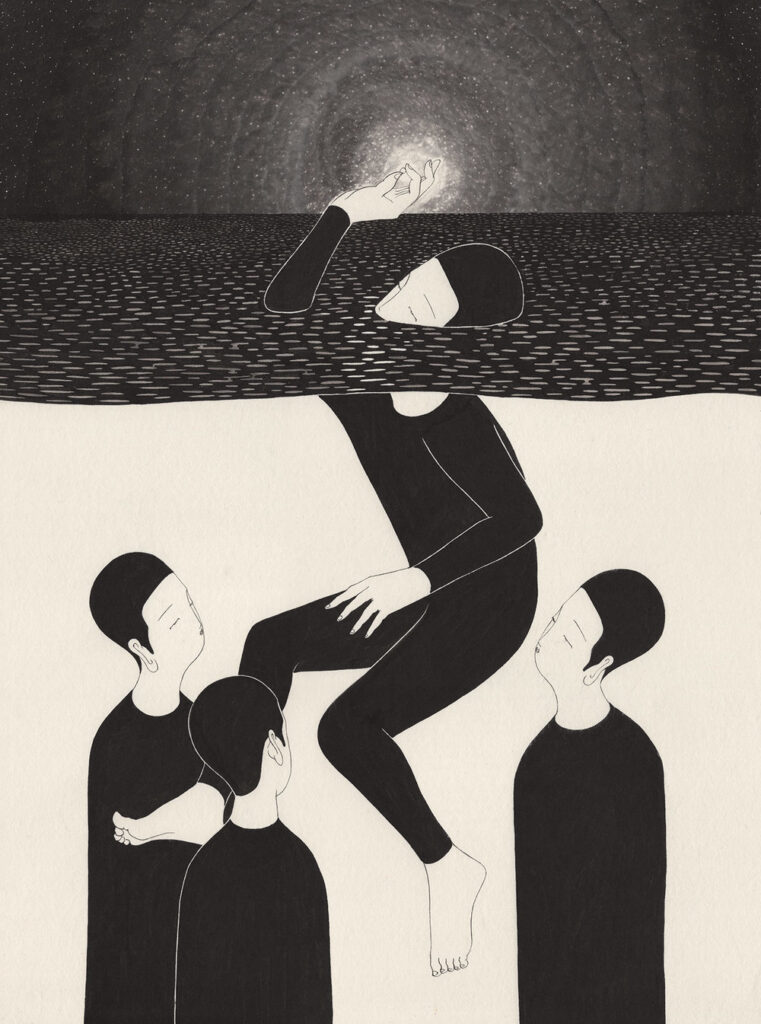 Four years ago, a few weeks after I decided I was going to start my own company, I experienced one of those quintessential character-defining moments. You know what I'm talking about, one of those memories you can point to and say "There. That's when I saw everything differently." I distinctly remember sitting in a room full of men at my school's entrepreneurship mixer one evening. We were all there in hopes of being accepted into UC Santa Barbara's New Venture Competition, a pitch competition for startups. The head of the department stood on stage and asked us all a question — "Who do you look up to? Which founder out there has done what you want to do?" The whispers around me were unsurprising: Elon Musk, Steve Jobs, Jeff Bezos, you know the rest. He then told us to study up on their journeys, because if they can do it on their own then so can we. "It's the best time to start a company," he said confidently.
His question reminded me, however, of the unfortunate truth that I realized many years before that moment. It was easy for the guys around me to pick a role model because the path they hoped to travel down had already been carved out for them by their predecessors, the same ones they looked up to. I'm not saying that makes their path any easier to travel, but it does give you a map when you see someone who looks like you achieve the same dreams that you have. At the very least, their path becomes realistic simply because it already exists. But as a then 21 year-old first generation Indian woman at a mid-tier public school on the Central coast, I could not point to a single woman with my background, or one even remotely similar, who had achieved what I had just set out to do — build a billion dollar company from scratch. It felt like I had just signed up to play a game that was very clearly not built to be played by people like me.
In fact, when we sat with the department chair for our application interview, my co-founder and I were told that even if we could pull off this idea, it would never work with just the two of us. We absolutely "without a doubt" needed more help, he said. Four years, tens of thousands of users, and a $2.27M seed round later, we finally hired the third person in our company yesterday. Along that journey, I discovered how to carve the path that once didn't exist for people like me. I'm still learning everyday and I'm nowhere near my end goal, but I am a hell of a lot closer than anyone thought I would be. Getting here was tough but absolutely doable, and I would love to share the map with you so that you can do it, too.
A year ago, when I decided it was finally time to raise capital for my company, I had so many preconceived notions about what my experience would look like. Was it going to be tougher because I was a woman? Statistics said the answer to that was a resounding 'yes'. Will it matter that I didn't go to Stanford or UC Berkeley? That was also looking like a 'yes'. Is anyone even going to take me seriously? There was only one way to find out. Spoiler alert, though, none of the things I feared stopped me from making it happen. And here are the things I want to share with you that helped me do it:
Be absolutely sure that you need to raise money from VC's and angel investors before you decide to do it. Once someone invests in your company, assume that they now own a piece of your pie and will want to know what you're doing with it every step of the way. You no longer need to have a "VC-backed" company in order to succeed, grow, or be taken seriously. Bootstrapping for the first 3 years was tough, but taught us so much about stretching every dollar and being laser-focused on how to move quickly towards our North Star. We only decided to raise capital from investors once we knew that we had reached the ceiling of our knowledge on how to scale our company. Raising capital was a two-pronged strategy; not only did we need the money, we also needed to gather the right group of mentors to help us grow both quickly and methodically. If you really want to take your company to the next level through funding, aim to have your investors be even more valuable to your company than the checks they write.
"If you want someone's money, ask them for advice. If you want someone's advice, ask them for money." This is the best advice I have ever received about raising capital. The easiest way to find mentors disguised as investors is to approach your conversations with them as an opportunity to learn. At early stages like preseed and seed, investors are looking at whether you are the best founder to solve the problem at hand. They know that the product can still change and so can a lot of other things, so the best indication of future success is you. Your goal in pitch conversations is to show your passion to solve the problem and your expertise in building the right solution, while still being open to their help. My co-founder always reminds me, "Be married to the problem, not the solution".
Rather than preparing the most visually appealing pitch deck anyone has ever seen, spend your time becoming an excellent storyteller. The more compelling your story is, the more people will feel emotionally connected to it. Getting a check takes multiple meetings, so your goal each time is just to get the next one on the calendar. The more memorable your story is, the better your chances are at getting it. Nobody remembers the TAM/SAM/SOM of the edtech SaaS market, but they do remember that I started this company because I desperately wanted to drop out of college and instead stuck around to fix the very problem I was experiencing.
Be picky about who you take money from, but don't be discouraged by small checks or angel investors. It's easy to get trapped in wanting only the big name VC's, but I've found that the most consistent and useful help can come from angel investors writing $5–25k checks out of their own pocket. Ask every single angel investor (and VC!) you meet for an intro to the next and those small checks will add up quickly. Regardless of the check size, know that you are the one doing a favor for your investors by allowing them to join you on this journey that could potentially make you both very wealthy. Of course maintain your humility, but remember that you don't have to take a check just because someone offers it to you. When it comes to picking which VC's and angels will join your cap table, think carefully about who made you feel the best in your meeting with them. Not the ones that complimented you the most, but the ones that made you feel truly yourself and reminded you why you love your startup so much. Those are the people you want to have by your side.
Down-rounds are a real thing (go watch that episode of Silicon Valley again) and especially with capital flying off the shelves these days, be careful not to raise at a higher valuation than you can realistically handle for the next round. Make sure you have legal help in place if it's feasible, or at least an unbiased third party to help you make these decisions if it's your first time raising capital. Conferring with other founders you trust who have already raised a few rounds is a great way to make sure you're on the right track throughout the process. The valuation process in pre-seed/seed rounds can be a wild ride, so go into it with an open mind but don't let anyone talk you into a number higher or lower than you're comfortable with. At the end of the day, you know how much your time and effort is worth.
The amount of tools that exist to help make this process easier for you is literally insane. Raising money can be an incredibly long process (assume at least 6 months) if your uncle doesn't work at A16Z. It's undeniably hard to balance your actual company with raising capital because both take almost 100% of your effort, so you're going to want to optimize your time in every way possible. Here are my holy grail tools that saved my sanity over the past year:
Docsend: Upload your deck, set up your viewing preferences, and create a new link for every investor you send it to. Docsend helps you track who's opening the deck, how long they've spent looking at every slide, and how many times they revisit it. Trust me, you want that data.
Notion: I run my entire company through Notion and I would be lost without it. We use it for all of our internal information, but I also used it to create a public-facing page where all of the pertinent information for our seed round lived. It was easy to make a beautiful landing page where I embedded a product demo, link to the deck, articles we were featured in, and a link to my Calendly. Investors loved how easy it was to find everything they needed in one place.
Startuprunway.io: Use this before you even begin to raise money to map out how much you'll need and how long it will last you. Aim to raise at least a year or two of runway if you're at the seed stage. Now that the money is in the bank, we still use this daily to track all of our expenses and ensure that we stay on schedule with our roadmap.
Carta: There is nothing on the entire internet that will help you more with the most boring but most important part of your round — the actual documentation of it. Carta helps you do quite literally everything: interacting with your cap table, sending shares, 409A evaluations, etc. It's absolutely worth the money, and most VC's will have a startup discount for you to use if you ask.
Calendly: At the peak of raising, you'll have so many meetings that you'll want to mute yourself at the end of each day. Calendly is the best way to schedule meetings if you don't have an assistant to plan your days (which I'm assuming most of us don't at this stage). It's already pretty commonplace amongst investors so it's welcomed by most.
All of this is just to say that if you're at the base of Mt. Everest staring up in fear and awe, wondering how the hell you're going to make it to the top when you've got half the gear that everyone else does — don't freak out. You can do this. It's not as hard as they like to make it look to outsiders like us. Go into it with confidence and the desire to learn and I guarantee that you will come out the other side a better entrepreneur. Whatever you do, don't let anyone convince you that this game was not made for you to play.
Article originally published on Swaay, found here.